Let us introduce ourselves in few words.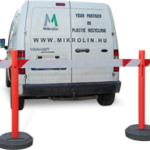 On the 25th January 1957 our predecessor the Sunshine Co on was founded in one of the most frequented part of the Budapest on the Rose Hill (East Charles Street), with the aim of manufacturing toys.
In 1962 the company changed its name to Mikrolin, referring to one of our children's toy produced. The name is still held.
On the 23d March 1963 on the company's general assembly decided to conduct a new development and move the company to larger site. Tatabánya has been chosen.
On the 1st January 1964 the company took over the newly built social edifice.
On the 4th December 1965 on the factory completely finished, thus Tatabánya's first light industry company began the production.
In the 1970'sthe plastic toy manufacturing company started up new business in the printing industry, the light-sensitized plates began to be produced.
In the 80 years in the printing industry's profile has become dominant. The Middle East Europe's largest offset plate factory wrapped.
The digital printing came to the market which caused a decline in the company's traditional products.
In December 2004 the company was bought up by Hungarian individuals and turned back to its roots, once again started to deal with plastics. The company became specialist in plastic waste recycling. The plastic waste is recycled and converted into various finished products.
The company became market leader in its segment by 2009.
PAST
PRESENT